Shipping Process for Winning Bidders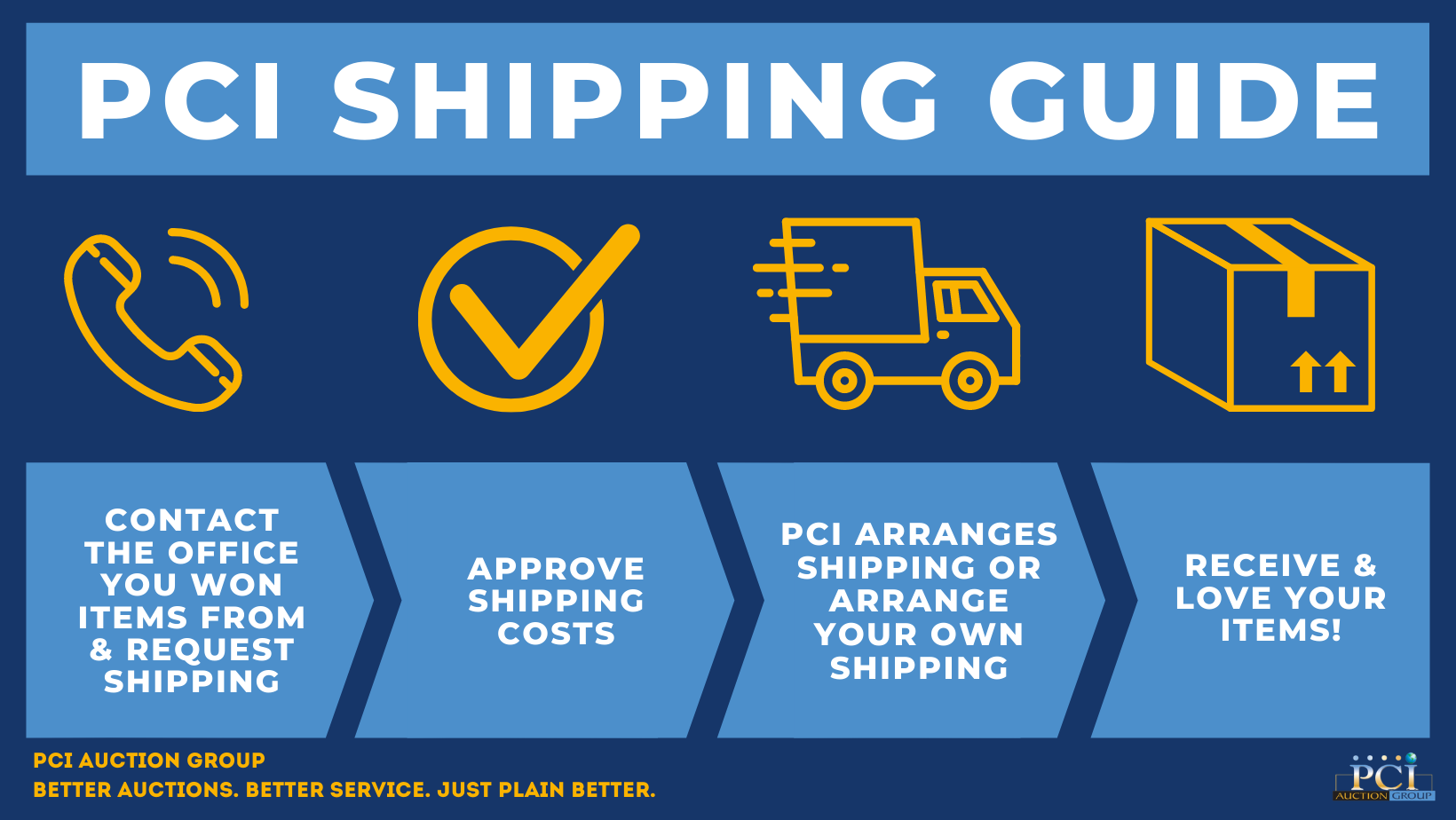 Any items that are not picked up on the scheduled pick up day that can be shipped via FedEx Ground, will automatically be shipped. The card on file will be charged the appropriate shipping and boxing costs. If you know you want your items shipped, please call or email the appropriate PCI division to help expedite the process.
You can set up freight for any items won with your freight company or use your local PCI division. You must email a bill of lading to the PCI division that will be shipping your items if you arrange your own shipping. This authorizes PCI to release the items to the freight company. Call your local PCI division or visit our Contact Us page for more information.
If an auction is on-site, contact the appropiate PCI division for shipping options.
*Please note that not all on-site auctions have removal, transportation, or shipping options available. Read through the auction's terms and conditions for verification.
Shipping FAQs
What is your shipping policy?
Shipping policies may differ between divisions. Contact your local division if you have specific shipping questions. Small packages will be sent out via ground shipping. There is a boxing fee of $15 per standard box. This covers the labor and materials to properly package your items. Custom packaging fees may be required for some shipments that may require more labor and materials in order to properly package your items.
Do you have a different shipping policy for larger items (150lbs and above)?
Yes, larger items can be shipped via freight or PCI Auction Group local delivery. There is a $50 palletization charge per standard pallet fee for wrapping, strapping and labor. In some cases, custom-built pallets may require additional labor fees. If you are arranging your own freight shipping, please arrange your shipment with a freight company that will pick up from our facility and ensure that a Bill of Lading is emailed to the appropriate PCI division.
PCI Auction Group local delivery is available for all items through most divisions. Your invoice items will be delivered and dropped outside of your location. Contact your local division to receive a delivery quote.
Can I get a quote for shipping?
We are unable to get shipping quotes until we have the accurate weight and dimensions of your pallet or box. You can estimate your shipping quote using the dimensions of the items which are provided in the listing and the weight of the items which are available through online manufacturer spec sheets. For smaller items, we recommend getting a quote through FedEx. For larger items, we recommend reaching out to a freight company.
Am I charged storage while I am waiting for my shipping quote?
We do not charge storage once you have contacted us and arranged for the shipment of your items. If your items require freight shipping, we will contact you once we have the shipping quote. If you do not respond to our pallet or freight quote emails within the designated time period a storage fee will be charged. We do not contact you with a shipping quote if your items are being shipped through FedEx unless otherwise noted.
How long is the shipping process?
Typically our shipping process takes anywhere from a day to a week and a half from when the auction ends. It is contingent upon the number of customers that elect to have their items shipped. To help expedite this process please contact the appropriate PCI division the day after the auction ends to arrange shipping.
What happens if items arrive damaged or pieces are missing?
If any item or packaging is damaged, missing, or if you have any doubt about possible damage, you MUST do the following:
Note it clearly on the delivery receipt before signing
Keep your copy of the delivery receipt
Contact us within 1 business day
Keep the damaged packing materials for inspection
Take pictures of the damaged items and packaging
Unfortunately, damage does occur occasionally during transit, and we must go to the carrier company to receive reimbursement for these damages. By signing the delivery receipt, you are taking responsibility and ownership for the shipment in the condition noted. If part or all of your shipment is damaged and you did not note this in any way on the delivery receipt, we CANNOT guarantee any compensation for damages.
What is liftgate service?
If you do not have an elevated loading dock or forklift to unload your items from the truck, you will need a liftgate and must request this option when you order. Please note, there is an additional fee for liftgate service which will be notated in your shipping quote. A liftgate is a motorized platform attached to the back of the truck that will physically lower your order to the ground so that you can take it inside your business or home.
What is a "Call Before Delivery?"
By requesting a "Call Before Delivery," the carrier will contact you approximately 24 hours before the estimated arrival of your order, to schedule a delivery appointment. A 4-hour window of time is typically provided; however, this may vary by carrier and shipping destination. Selecting this option may add an additional day to your order's transit time. The phone number associated with your shipping address will be used to schedule the delivery. If you are unavailable to accept your delivery during a scheduled appointment, you will be responsible for any redelivery fees owed to the carrier or freight broker. Additional fees will apply if you require a time-specific delivery in which the typical 4-hour window needs to be shortened. Most PCI divisions include this in their shipping quote.
Do you ship to Canada?
Orders shipped via common carrier require a broker to facilitate the import of your items into Canada. We will contact you before processing the order to inquire which brokerage company you are using. If you have already determined a broker for your shipment, please let us know when you order.
Shipping Disclaimer
We will not be responsible for the acts or omissions of carriers or packers whether or not recommended by us. Packing and handling of purchased items by us are at the entire risk of the purchaser, and we will have no liability for any loss or damage to such items. Accordingly, we recommend that you take full advantage of shipping insurance whenever available. We cannot ship Fedex orders to PO boxes, so please include a street address under the shipping address. Additionally, if the invoice is $500 or more a direct signature is required for Fedex deliveries.