Food Truck Equipment Auctions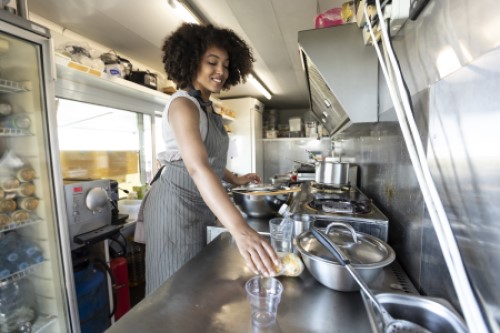 IBISWorld estimates that there are more than 35,000 food trucks operating around the United States. If you've been to any city, stadium, college campus, or lifestyle event, you know how welcome they are. Not only do food trucks allow people to buy meals, beverages, and treats quickly, but they often give hungry folks the chance to try different types of ethnic recipes.
Owning and operating a food truck can be an exciting occupation. However, whether you're running a food truck operation as a side gig or a full-time job, you need the right food truck equipment. Otherwise, you can't satisfy all the curious newcomers and repeat customers who visit your window every day.
At PCI Auction Group, we understand and applaud the entrepreneurial mindset. We also know how important it is to maximize your equipment budget. Our auctions help connect food truck equipment sellers and buyers, giving both parties the chance to get a deal.
Why pay too much to get the food truck items you need? Just visit our website and check out our upcoming food truck equipment auctions. When you find one that has what you need for your food truck, register online quickly and easily. From that point, you can place your bid. Once you've won the items you need, you can arrange to pick them up. Or, you can have us ship them to you for a fee.
The Experts in Food Truck Equipment Auctions
It takes more than great ingredients and a dream to open a food truck that gets lots of traffic. It takes the right food truck equipment, too. Yet you never need to overspend to get ready-to-use equipment in good condition. You just need to work with PCI Auction Group.
Wondering what type of food truck equipment you may find at a PCI Auction Group event? Check out this list of great merchandise perfect for the food truck industry:
Charbroilers
Countertop ranges
Cutting and food preparation surfaces
Dinnerware - plastic, paper, etc.
Dispensers - all varieties
Electric griddles
Grills and presses
Hood and ventilation systems
Small appliances - blenders, toasters, etc.
Utensils, cutters, etc.
Warming equipment

Sell Your Food Truck Equipment at Auction
Did you recently upgrade to a different food truck? Need to sell your food truck equipment but want to do it as fast as possible? Turn to PCI Auction Group.
Food truck equipment and appliance sellers appreciate being able to partner with PCI Auction Group to sell their items for a fair price. They know that the PCI Auction Group process works again and again. Plus, they learn quickly that our team has the infrastructure, knowledge, and reputation to attract bidders from across the country.
Why spend time trying to move your food truck inventory, arrange shipping, or vet buyers? Let PCI Auction Group take all the stressors out of the food truck equipment selling experience. Getting top dollar was never simpler!
"The bidding process, shipping and customer service from East Coast and Jen was great. The item was way better than the picture and I'm excited to have such a great machine at an unbelievable price;" – Satisfied Customer