Experience the difference with PCI Auctions Oregon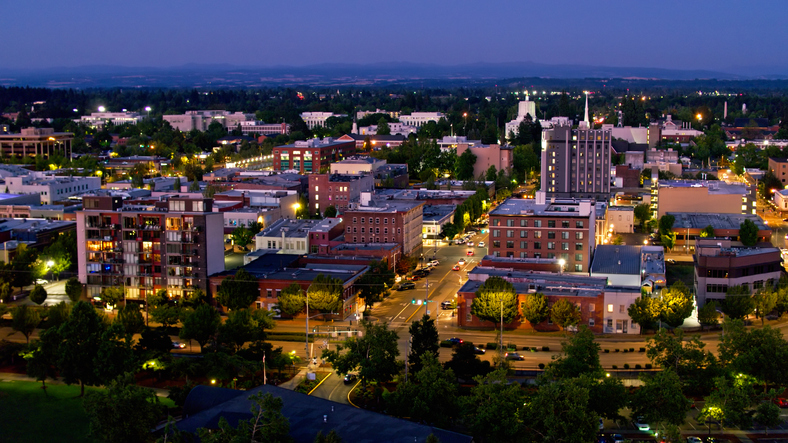 PCI Auction Group is a leader in restaurant equipment liquidation. Serving buyers and sellers of restaurant equipment nationwide through PCI Auction Group's online auction platform, buying or selling restaurant equipment in Oregon has never been easier. PCI Auction Group is a network of auction divisions dedicated to finding quality overstock, scratch and dent, or used restaurant equipment and connecting with buyers who are looking to outfit their restaurant with top notch equipment that won't break their budget. And the best part is, PCI Auction Group Oregon will facilitate the shipping of your auction items from start to finish so you can list or buy items from our online auctions with ease!
PCI Auctions Oregon: The Pillars We Stand By
Better Auctions: PCI Auction Group's auctions are a cut above the rest. Our renowned online auction platform allows bidding to take place any time - day or night - across the 4 standard time zones in the US. By having a nationwide auction, buyers can easily find the restaurant equipment they're looking for quickly and efficiently, and sellers can breathe a sigh of relief that their assets are being put in front of the nation's most serious buyers. Buyers can expect to find the highest quality restaurant equipment right from their home state of Oregon.
Better Service: Whether you're a buyer or a seller, our auction specialists are highly trained and ready to assist you on your restaurant equipment auction journey. Our customer service doesn't end there. Our highly trained staff offer free appraisals to all of our sellers which benefits sellers and buyers alike. We also handle 100% of the removal and transport logistics to make the transactions seamless for both parties in Oregon and beyond.
Just Plain Better: There's a reason why our buyers and sellers keep returning to us again and again for their restaurant equipment needs - we get the job done. But don't take our word for it. Check out our testimonials page and see why PCI Auction Group is the nation's leader for online auctions and restaurant equipment liquidation. The Benefits of Buying through PCI Auction Group's Online Platform.
Served Cities in Oregon
Portland
Eugene
Salem
Gresham
Hillsboro
Bend
Beaverton
Medford
Springfield
Corvallis
Albany
Tigard

Restaurant Equipment for Auction in Oregon
Commercial mixers - Attention Oregon owners of bakeries, pizzerias, and eateries who make their dough in house: PCI Auction Group in Oregon offers the highest quality selection of both standard mixers and heavy duty mixers. Whether you're looking for countertop mixers, stand mixers or floor mixers, we regularly have the top tier brands of commercial mixers at our auctions. See what we currently have on our online auction website today.
Commercial ovens - Oregon restaurant owners return to PCI Auction Group's online auction website again and again to buy or sell their commercial ovens. Blodgett, Vulcan, Turbochef and Alto Shaam are just a few of the brands we currently have featured on our online auction. In addition to standard or radiant ovens, convection ovens, conveyor ovens, we also feature a wide array of rack ovens, proofer ovens, deck ovens, impinger ovens, steam overs, combi ovens, cook-and-hold ovens, high-speed ovens, smoker ovens, and rotisserie ovens. Your kitchen's power source is something you should also consider when looking for a commercial oven. We also have gas ovens and electric ovens available so you will be able to have the option to choose which oven fits your kitchen's needs. With so many commercial ovens to choose from, finding what you need for your restaurant in Oregon has never been easier with PCI Auction Group!
Commercial pizza ovens - All commercial pizza ovens are not the same. If you can outfit your kitchen with either a gas oven or an electric oven, a convection oven or a deck oven might be right for you. If fast service is your priority, either a conveyor oven or a rapid cook oven is a great option. If providing your customers with a crispy, tasty crust is your goal, brick ovens are the way to go. With so many types of commercial pizza ovens to choose from, let PCI Auction Group Oregon help you find the perfect one for you.
Commercial freezers - PCI Auction Group in Oregon has a wide selection of restaurant equipment - including commercial freezers. Whether you are outfitting your ice cream parlor with glass top commercial freezers or looking for the perfect under countertop commercial freezer for your cafe, PCI Auction Group in Oregon can help you find what you need. We regularly have batch freezers, display freezers, chef base freezers, solid door freezers, walk-in freezers, rolling rack freezers and blast chiller freezer featured on our online auction website. Check out all of the freezers we have up for auction right now in Oregon.
Espresso & coffee machines - Coffee and coffee based drinks have become an American staple for all times of day. Espresso and coffee machines are one of the most popular pieces of restaurant equipment that Oregon buyers seek out at PCI Auction Group. We regularly feature the following commercial espresso and coffee machine brands on our auction website: Curtis, BUNN, Grindmaster, and more! Let the Oregon team help you find what you're looking for today.
Dishwashers - Looking for a glassware dishwasher for your bar in Oregon? Or perhaps you're in the market for a conveyor dishwasher for your bistro. PCI Auction Group in Oregon is a great place to find the commercial dishwasher that is right for you. From under the counter dishwashers to rack dishwashers of low and high temperature capabilities, you can find what you need for your restaurant on our online auctions. Check out our dishwashers today!
Fryers - Having trouble finding a commercial fryer for your restaurant in Oregon? Let PCI Auction Group Oregon help you find what you're looking for. We have many types of commercial fryers listed on our online auction website. From open-pot fryers to tube-type fryers and from commercial pressure fryers to flat-bottom fryers, take a look at our wide selection of high quality, commercial fryers today!
Meat grinders - Whether you are looking for manual meat grinder or electric meat grinders, PCI Auction Group in Oregon can help you buy or sell your commercial meat grinders quickly. Check out our current online auction to see our selection of name brand commercial meat grinders available in the Oregon area.
Meat slicers - Safety and efficiency is the name of the game when it comes to investing in commercial meat slicers and no one understands that better than PCI Auction Group in Oregon. From manual meat slicers to automatic meat slicers, let PCI Auction Group find the slicer that fits your deli or restaurant's needs.
Selling Restaurant Equipment in Oregon
When you are looking to liquidate restaurant equipment, time is of the essence. Whether you are remodeling and upgrading your restaurant or you are closing your doors, choosing to auction off your equipment in one shot is always the way to go. With PCI Auction Group, selling restaurant equipment in Oregon is hassle free. With a quick phone call or email, we can get the ball rolling for you. One of our auction specialists will guide you step by step and help you decide the best way to go about storing your assets until they are sold. We also offer free appraisals of assets to all of our sellers. Our free appraisals help ensure that you will list your assets at competitive prices and get the most return on your initial investment.
Because PCI Auction Group's online platform has a national reach, we extend to audiences far beyond Oregon. By putting your restaurant equipment in front of bidders nationwide and offering premiere customer service, liquidating your restaurant equipment in Oregon will be more competitive and your assets will move more quickly than if you relied on auctioning only to Oregon locals.
Buying Restaurant Equipment in Oregon
Are you opening a new restaurant in Oregon? Or looking to expand or upgrade the one you already own? Quality wholesale restaurant equipment can be pricey. Many smart restaurant owners turn to liquidation auctions to find the overstock, scratch-and-dent, and quality used equipment at a fraction of the cost. Because PCI Auction Group's online auction platform connects buyers with the right sellers from all of the US, finding name brand restaurant equipment is easier than ever. With one click of a button, your restaurant equipment could be on its way to you in no time.
With our auction specialists there to answer all of your questions, you will be able to find exactly what you are looking for every time. Our auction alert feature also ensures that you will never miss out on an opportunity to bid on a piece of equipment - regardless of your location. You can also become a PCI Insider by joining our email list and receive the regular updates on current auctions as well as exclusive information on upcoming auctions and items.
Become a PCI Group Division in Oregon Today
Do you believe in quality customer service? Have you always wanted to be a business owner with unlimited earning potential? Does the thought of belonging to a network of successful businesses entice you? If you answered yes to one or more of these questions, we want YOU to open a PCI auction division near you. With your entrepreneurial instincts and expertise combined with our tried and true business model, you will be able to generate the revenue you're looking for in the commercial and industrial equipment industry. See why PCI Auction Group is one of the nation's largest online restaurant equipment auction companies, and let our trusted team of online auction experts guide you to financial success.
Contact us today and experience the PCI Auction Group difference! Better auctions, better service, just plain better.