Gyms & Fitness Center Equipment Auctions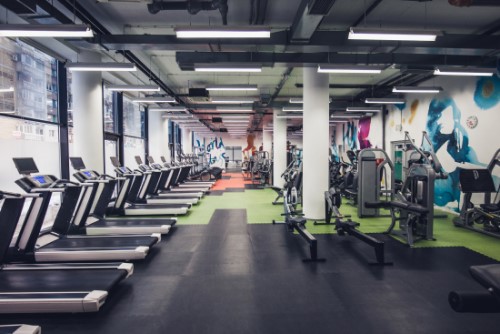 The fitness craze continues to be strong across America, encouraging millions of people to join health clubs, fitness centers, personal fitness studios, and gyms annually. As the most recent IBISWorld figures show, the overall fitness market worth in the U.S. alone has reached $36.6 billion. That's a great sign if your business goal is to help people get healthier by offering a welcoming, well-appointed place for them to work out.
Of course, you want to maximize your investment dollars when opening any type of gym or fitness center. Buying quality workout equipment at auction allows you to acquire treadmills, elliptical trainers, machines, free weights, furnishings, and more for much less than you would pay if the items were new.
At PCI Auction Group, we specialize in bringing you the opportunity to invest in gym, health club, and fitness center equipment that will impress your members. Whether you want to expand an existing facility, bring a fresh fitness concept to your community, or put a gym in your house, PCI Auction Group can help you quickly, conveniently, and affordably.
It's easy to get started. Just register and find a gym and fitness center auction online at our site. Look around to see what you need. Then, place your bids. After winning your preferred items, you can arrange to pick them up or have them shipped for a fee. What could be simpler?
Gym and Fitness Center Equipment Pros
The right gym and fitness center equipment can make all the difference when it comes to attracting and retaining members. Trust PCI Auction Group to help you create a winning, impressive facility that nets great reviews and fuels membership growth.
What types of equipment can you expect to find at a gym and fitness center equipment auction at PCI Auction Group? Some of the health-related equipment we've auctioned recently that might interest you includes:
Benches
Ellipticals
Free weights
HIIT Equipment
Kettlebells
Machines (misc)
Rowers
Stair Climbers
Stationary Bikes
Treadmills
TRX Equipment
Yoga Equipment

Dependable Gym & Fitness Center Equipment Auction Results
Why do so many gym and fitness center owners choose PCI Auction Group when selling their equipment? They know that PCI Auction Group has a reliable process that works.
If you are refreshing your current fitness club equipment or have decided to sell off equipment from your gym, turn to the team at PCI Auction Group to get top dollar for your merchandise. The PCI Auction Group team has the expertise and network to handle all aspects of a gym and fitness center auction. From handling inventory needs and arranging lots to taking care of outbound shipments, everything is taken care of efficiently and effectively.
Why try to sell your items alone when PCI Auction Group can do it all? Get top dollar faster with us.
"The bidding process, shipping and customer service from East Coast and Jen was great. The item was way better than the picture and I'm excited to have such a great machine at an unbelievable price;" – Satisfied Customer
Check out our past Gyms & Fitness Center Auction Results: